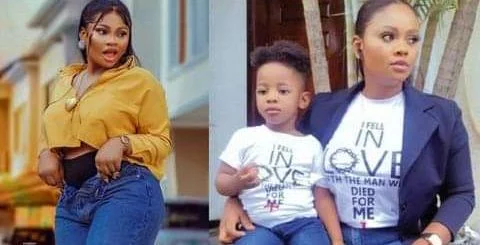 Big Brother reality star Tega Dominic has revealed how she deals with social media trolls who try to bully her son and herself online.
Tega Dominic was one of the Big Brother Naija seasons 5 housemates who was being talked about on social media before and after her eviction. She trended for negative reasons on Twitter for weeks after her disagreement with her colleague housemate Boma.
On a discussion on Beat FM, the mother of one stated that, she has been able to overcome the trolls and insults from social media users online as she indicated that, anytime she sees a troll behind her back, she only finds suitable words to hit back at the troll.
In her own words, she said;
"There was this time someone bullied me and my son. I went to the person's page and realized that the person recently opened the account. In my mind, I was like, 'This person cannot even face me with his real account and speak to me directly.
That means I am way above the person. You will never see someone who has a blue tick on Instagram bullying another person. I just gave myself courage and said, 'This cannot be it.
I may be getting trolled and my assistant or sister will come to my room and see me laughing. I have fine legs and I may look at the troll's legs and say to myself,
'My legs are even finer and this one is talking. There is always something to massage my ego. I have never seen trolling and bullying in my life like in the past year. The people that have been there before me, I wonder what they have been facing."