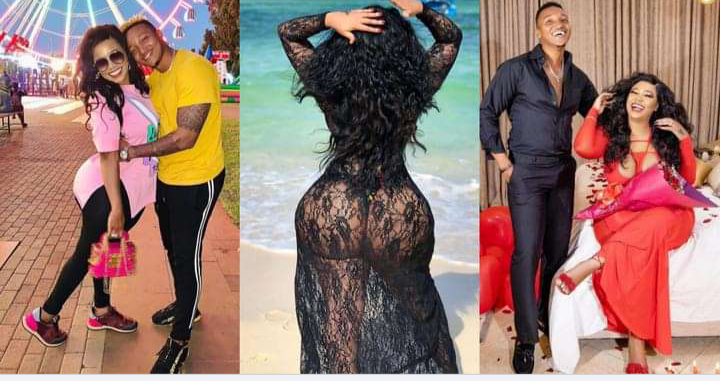 Husband of popular Kenyan media personality Vera Sidika , Brown Mauzo, has publicly reacted to her transformation after removing her butt implants.
Vera Sidika, who previously had butt implants, to gave her body a new look, but had to remove the implant due to medical complications she had suffered.
On her Instagram page on Wednesday, the 33-year-old, who uploaded a new photo show her look after the corrective surgery, advise her fellow women not to be pushed into changing their bodies because of peer pressure.
"I had to undergo surgery. It's still very unbelievable, but I've come to terms with it and learnt to love myself regardless. Ladies, please learn to love yourself and don't ever let peer pressure rush you into things that will ruin you in the future. " She wrote in part.
In reacting to this, her husband, Brown Mauzo, in an exciting message to his wife moments ago, admits that, he misses her former killer figure, but he loves and treasures her personality regardless.
The father of two encouraged his wife and noted that it would educate young girls to love their bodies.
"Dear wife, I know this hasn't been easy at all. I've been with you through the entire process and all I can say is that you are very strong lady.
I'm so happy U found peace & acceptance & finally had the courage to come out and educate young girls.
I your husband miss your killer figure so much but what i love and treasure is your personality & pure heart .
I will love you more just the way you are". He wrote.