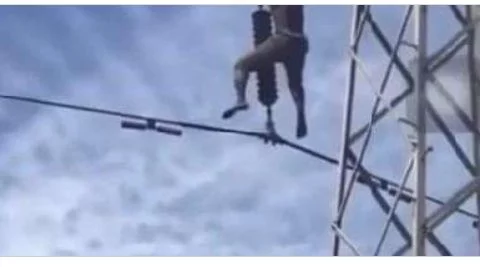 An unidentified young man has committed suicide by climbing an electricity transmission line at Kasoa.
According to report, the deceased reportedly told closed friends that, he is tired of life hence his decision to climb the transmission lines to commit suicide.
His lifeless body was found hanging on the transmission lines as he was electrocuted to death after climbing the high voltage lines.
His body has been deposited at the morgue for identification and autopsy.
The issue of suicide is a major problem in Ghana and other Countries as authorities are trying to create awareness on the dangers of suicide through education.
Some have linked the current spate of suicide cases to the economic hardships in the Country as prices of goods and services keep increasing
amidst increasing fuel prices which is accompanied with increases in lorry fares.
The current economic hardships is partly blamed on the high rate of inflation in Ghana which is currently hovering around 37 percent as inflation continuous to be on the rise.
Additionally, the fast depreciation of the Cedi against the US Dollar and other major currencies is also a major concern as it is a contributory factor to the current economic woes facing Ghanaians.
Some mental health experts have stated that, these current economic hardships can lead some Ghanaians to consider committing suicide due to the pressure on some families, and there is the need to counsel such people.