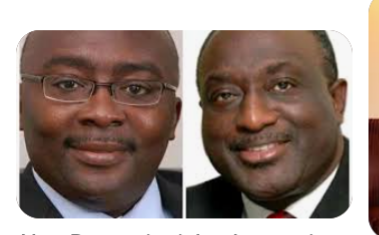 A staunch member and campaigner for Alan Kwadwo Kyerematen in the Northern Region, has jumped ship as he joins Dr. Bawumia's campaign team.
Alhaji Agbaa Alan (AAA), in a presser emphasized that he would come out to tell all delegates about the falsehoods and deceptive maneuverings of the Alan campaign team.
"I will come out in a press conference to indicate (disclose) to all delegates within the nook and cranny of the electoral college for the entire NPP to tell them about the false and deceptive information used to outwit their intelligence"
He further stated that 'the conversation should be about who can unite our party, who can be truthful to our party, who can energize the base and motivate the grassroots to rekindle our spirits for the 2024 electioneering campaign'.
Continuing, Alhaji Agbaa said that "Most importantly, the person must have the capacity to be a president, for example, we have tried and tested Vice President who is in the person of Dr. Mahamudu Bawumia whom I am now completely giving my support to".
He also touched on the narrative by a section of Alan's campaign team which suggests Northerners should be second fiddles.
"If NPP is reserving Vice Presidency for only Northerners, then it means that we Northerners have no future in NPP"
He reminded party people of the fact that there have been Northerners who have risen to become presidents in the country, citing John Mahama of the NDC and Dr. Hills Limann of blessed memory.
"Why can't NPP test a Northerner to be a flagbearer?" he asked.
Even though, the ruling New Patriotic Party (NPP) is yet to officially open nominations for aspirants to contest for the position of flagbearer, Vice President Dr. Mahamudu Bawumia and Trade and Industry Minister Alan Kodjo Kyeremateng are tipped as front runners for the Flagbearership race.
The two are yet to officially declare their intention to contest for the position flagbearer, but their supporters are already on the campaign grounds campaigning for their pref
"People assume that the NPP is an Akan party. If we don't want this stereotyping, then let's try Dr. Mahamudu Bawumia as our flagbearer, to use him as a test case to tell the whole world that NPP is not an Akan party" he stated.
Alhaji Agbaa also disclosed that he was an integral part of those who organized the 'Aduru Wo So' health walk. "I was responsible for bringing North-East, Upper East, Savanna and Norther Regions to Kumasi and I conveyed them there. Little did I know that some facts of the exercise were concealed until we were in the middle of the walk, and majority of the people were changing bigotry songs, tribal bigotry songs against Northerners and Muslims in particular. I got mad as a chief about it and withdrew all my people from the walk"