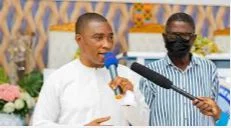 The Deputy Minister for Lands and Natural Resources, George Mireku Duker has sued the Multimedia group for Defamation.
The Deputy Minister, who is also the Member of Parliament for Tarkwa Nsuaem in the Western Region is demanding 10 Million in Damages per the suit filed at the High Court.
Joined to the suit is Class media group, owners of Accra Fm as well as the Chief of Dompine, Nathaniel Dekyi.
This follows a publication by the defendants alleging that, the Deputy Minister has been engaged in illegal mining.
Among the relieves sought by the Deputy Minister is a declaration that, publication against him are defamatory.
He is further praying the Court for an interim and perpetual injunction restraining the defendants from further publishing such allegations.
He is further seeking an order from the Court for aggravated damages arising from the publication, and also cost of all the legal fees incurred.