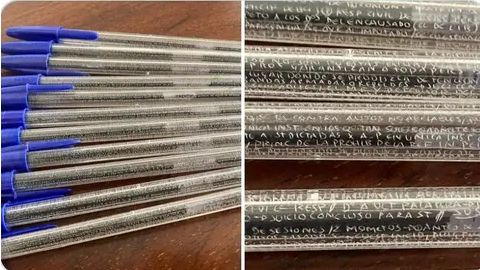 A student who engraved his whole curriculum of Criminal Law around the entire diameter of just 11 pens for cheating during his examination in Spain has been busted.
The pictures of the pens have recently surfaced on the microblogging platform Twitter and are going viral now.
The student carved borderline tiny lettering on a pack of blue bic pens and selected this last alternative. However, he was apprehended, and the inventive crib notes were seized.
The pictures of those 11 pens were shared by a professor named Yolanda De Lucchi on Twitter last week. While the pens appear to be normal at first sight, a closer investigation reveals that the plastic bodies of the pens are covered in extremely small texts.