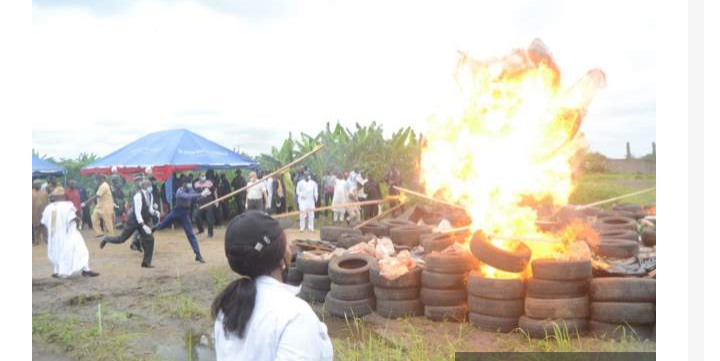 Nigeria's anti-narcotics agency has destroyed a batch of 1.8 tonnes of cocaine, its biggest ever seizure, that was discovered last week in a warehouse in the Ikorodu area, north-east of the commercial hub, Lagos.
The bust was estimated to be worth more than $270m (£240m).
Four Nigerian men aged 69, 65, and two 53-year-olds were arrested in different parts of the commercial city. A foreign nation was also detained.
The suspects were brought to the scene to witness and sign the certificate of destruction of the 1,800 blocks of cocaine.
A small batch that was retained will be used in their prosecution.
The head of National Drug Law Enforcement Agency (NDLEA) said in a statement that the agency had made some progress in its fight against illegal drugs.
"In the past 20 months, arrested and jailed drug offenders have forfeited 249 luxury cars and we blocked 600 drug related bank accounts", Baba Marwa said.
Nigeria has recently recorded several drug busts and secured high-profile arrests.
Source: BBC. Com