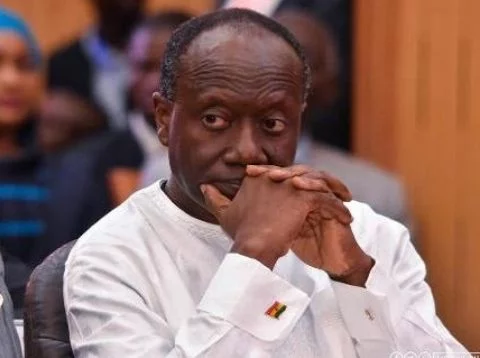 Speaker of Parliament, Alban Bagbin has admitted a motion of censure filed by Minority Members of Parliament to remove embattled Finance Minister, Ken Ofori-Atta.
On Tuesday, the Minority filed a motion to that effect following the Majority MP's demands to have the Finance Minister and the Minister of State in charge of Finance at the Ministry of Finance, Charles Adu Boahen dismissed.
According to them, Mr. Ofori-Atta is incompetent and is to blame for the current economic hardships facing Ghanaians.
According to Minority Leader Haruna Iddrisu, the Minority is hopeful that, by 10th November, they can conclude processes to remove the Finance Minister.
"The motion has been admitted by the Speaker and therefore it would have to go through the requirement of the Constitution. Notice for at least seven days before we move the motion. So between now and 10th November- the Constitution requires that it is done within 14 days," he said.
in a related developmwnt, President Akufo-Addo has met with the Majority MPs who are demanding the removal of Mr. Ofori-Atta. It was agreed after the meeting that the Finance Minister be allowed to conclude negotiations with the International Monetary Fund (IMF) before any discussion on resignation would be held.
In this regard, Majority Leader, Osei Kyei-Mensah-Bonsu in an interview with JoyNews said the Majority MPS have accepted the plea to allow Finance Minister, Ken Ofori-Atta, and Minister of State at the Finance Ministry, Charles Adu Boahen stay in office till after the IMF negotiation is done.
Per the statement released by the Majority, the Minister of Finance will stay in office "until the conclusion of the round of negotiations with the International Monetary Fund (IMF) and the presentation of the Budget Statement and Economic Policy in November, 2022 and the subsequent passage of the Appropriation Bill after which time the demand will be acted upon."
In his response to this, the Minority Leader, Haruna Iddrisu criticised the NPP MPs for accepting the President's request.
According to him, more time won't save the Finance Minister, adding that "they [Minority] want to know when he will quit."
"They are asking for time, time to do what? If he completes the IMF project and budget, who implements it? That would further create uncertainty in the market and can affect the performance of the cedi," he stated.