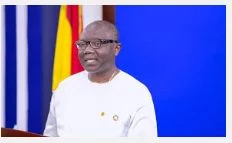 The Minority in Parliament have successfully filed a motion of censure against Finance Minister, Ken Ofori Atta.
The censure was filed by the NDC Minority MPs after Parliament resumes sitting after more than 2 Months break.
What this means is that, the processes for the removal of the finance Minister has been started.
Before the motion of censure was filed by the Minority side of Parliament, about 80 Members of the Majority NPP side organized a press conference where they called on President Akufo-Addo to sack Ken Ofori Atta.
The Majority MPs are also demanding that, the Minister of State at the Finance Ministry, Charles Adu Boahene must also be sacked.
For some time now, Ghana's Economy is under pressure with a fast depreciating currency and rising inflation.
The situation has led to high cost of living amidst rising crude oil in almost on daily basis.
It is not clear yet whether the President will sack the finance Minister as demanded by the Majority side of the House.
Earlier in the Week, the President told media personnel that, he see no justification for the removal of the finance Minister as he explained how he make sure that, the Economy grew between 2017 and 2018.