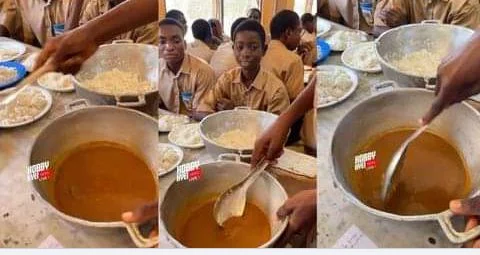 There is a possibility of another imminent food shortage in Senior High Schools in Ghana if current media reports are anything to go by.
The recent reports follows a viral video currently trending on social where some students are seen taken gari and stew as their lunch.
The students of St. Paul's Senior High School and Minor Seminary at Hatsukorpe in the Ketu South Municipality were captured in the video being served with only gari and stew without any food .
This development is certainly not a positive one as food shortages across Senior High Schools in Ghana has resulted in students eating less nutritious foods.
Following the roll out of the free Senior High School policy in Ghana, many Schools have been hit with the lack of funds to support the day to day running of the Schools.
The increase in the number of students in Senior High Schools did not only caused food shortages , but it has also lead to overpopulation in dormitories as well as inadequate furniture across various Senior High Schools in Ghana.
From the viral video, one could conclude that, the students were starved as they were seen preparing to eat the gari with what could be described as watery soup which contained one fish per saucepan for ten students.
Following these challenges , a section of Ghanaians have called for a review of the free Senior High School due to the teething problems associated with it.
But the current NPP administration has insisted that, the policy has come to stay and the challenges will be over.
The buffer stock Company ,which is responsibly for feeding of Senior High Schools has been trying its best to address the issue of food shortage in various Senior High Schools in Ghana.
Some few Months ago, some heads of Senior High Schools in the Country closed down their Schools due to shortage of food .
But the Ministry of Education and the Finance Ministry released funds for the Schools .
Feeding grants for second cycle institutions in the is annual problem as it has always been a problem for authorities and heads of Senior High Schools sometimes have to close down Schools due to lack of funding .
due to the current economic hardships , the government is struggling to meet its financial obligation to many sectors of the economy which includes the education sector.
Some experts in the educational sector have called on the government to as a matter of urgency address the issue as it has the potential to affect the performance of students at the Senor High School level.