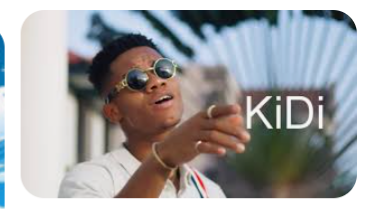 Popular Ghanaian music star, KiDi has revealed that he is still getting threats from fans of other celebrities after his old tweets were leaked.
In an interview with Andy Dosty on Daybreak Hitz, Kidi explained that after his old tweets in which he had made some unpleasant comments about some celebrities, he keeps getting threats from fans and social media users as he indicated that, members of his family are not left out of it.
"It's been four-five days now, I still get threats. My whole family is catching the bullet. Everybody who knows nothing about the situation is catching heat."
KiDi added, "It is sad to see that people out there don't care about who you are. They don't care about who you were 10 years ago. They don't care. That's who you are.
"I see the insults, the threats, the personal attacks," he continued.
The music star further revealed that, he is hoping that the people he attacked will understand that everyone mistakes and everyone has a past.
"I'm guessing all these people have families, I'm guessing all these people are not perfect, but you would they will understand that human beings make mistakes and you learn from them."
This comes after his old tweets – which resurfaced on Wednesday – saw him swipe at Sarkodie, Delay, and Yvonne Nelson.
He however apologized to the public admitting that at the time he was not only young but ignorant and did not understand the repercussions of his words and actions.
"I tweeted things that were inappropriate and unkind. As I mature, I came to be extremely regretful of these actions and how they affected the parties involved," the singer wrote.
Revealing about how he has grown to be a much better person. KiDi said that "A lot of the things and values we hold now, we had to go through certain things in life to arrive at this place that we are.
We had to unlearn a lot of things we grew up with and relearn certain things to also know that this is not okay."
He again added that, he had wished that all the attention would have been directed to his 4PLAY EP.
"I would have wanted all the attention to go to my EP, that is what I would have wanted, at a point when it was happening I was like wow, were all these people when I released my EP," he said.