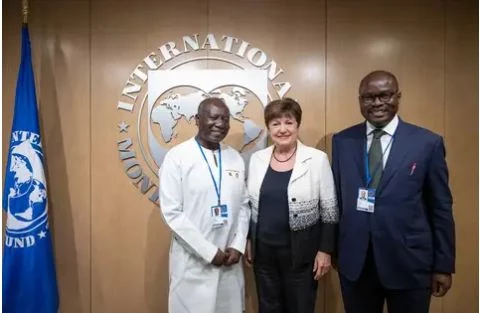 The Managing Director of the International Monetary Fund (IMF), Kristiana Georgieva has given yet another important update on a program for Ghana after a meeting with Finance Minister and Governor of the Bank of Ghana.
According to the IMF Director, the fund had a very good meeting with Finance Minister, Ken Ofori – Atta and Governor of the Bank of Ghana, Dr. Ernest Addison.
Krisalina Georgieva revealed that, the IMF meeting discussed the progress being made towards a program aimed at restoring macro stability as well as protecting the vulnerable and promoting inclusive growth.
This latest revelation by the IMF boss is definitely a welcoming one for Ghanaians as the Country awaits a conclusion of a program.
For some time now, Ghana has been working to secure an IMF program to support the economy.
Ghana's economy is currently struggling amidst rising inflation and a weak currency that has been depreciating against the US Dollar and other major currencies since the beginning of the year 2022.
Managers of the economy are hoping to secure an IMF supported program before the presentation of the 2023 budget by the finance Minister.
Many Ghanaians are complaining about the high cost of living due to continuous increase in fuel prices and prices of goods and services.
The IMF has been in discussions with managers of Ghana's economy at the fund's annual meeting in Washington DC.