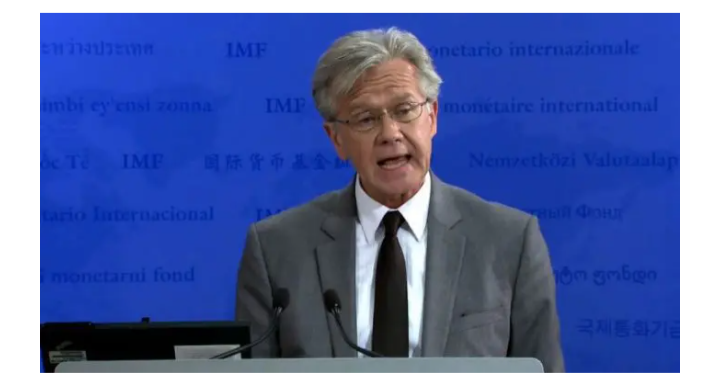 The International Monetary Fund (IMF) has said it is too early to start talking about debt restructuring in Ghana following the ongoing negotiation to get a programme for the West African country.
The Fund also stated that, restructuring of Ghana's debt will be dependent on the outcome of its Debt Sustainability Analysis (DSA) Report.
The IMF Director of Communications, Gerry Rice who disclosed this at a News Conference in Washington DC suggested that, the DSA report will determine if there is the need for debt restructuring in the first place and if necessary, how it should be carried out as well as which areas will be affected.
"When a country requests financing from the IMF, we assess whether the country's policies are consistent with debt sustainability as one of our requirements. We still need to conduct a thorough update of the debt situation in Ghana through our Debt Sustainability Analysis.
"The last, I don't know if it's useful, I have here the last DSA, Debt Sustainability Analysis. We published this as part of the 2021 Article IV Staff Report with Ghana. It said public debt was a sustainable conditional on a rigorous and credible implementation of the authority's medium term consolidation plan to put debt on a declining trajectory and ensure continued market access," Mr. Rice stressed.
A Former Finance Minister Mr Seth Terkper had indicated that debt restructuring in Ghana was unavoidable given the spending that have been engaged in by the government over the period.
Ghana has statrted discussions with domestic bondholders on a restructuring of its local-currency or cedi debt as part of plan to secure a $3 billion loan from the International Monetary Fund.
Bloomberg reported that, the nation's largest debt investors including local banks and pension funds are preparing to engage in discussion on debt reorganization that could entail extension of maturities and haircuts on principal and interest payments, according to people familiar with the matter, who asked not to be identified because they are not authorized to speak publicly.
The restructuring would be part of a debt-sustainability plan required by the International Monetary Fund (IMF) and will include part of the $19 billion Ghana has in outstanding local debt.
Speaking on the Ghana Tonight show on TV3 with Alfred Ocansey, Monday September 26, Mr Terkper said "Debt restructuring at this point is inevitable because if you are having difficulties paying your bills …you have to be smart with your borrowing otherwise, the debts keep increasing. The alarming part of it which we have not highlighted very much is the intervention of Bank of Ghana.
"Remember we moved from Zero financing in 2016 to Bank of Ghana coming to the aide of government, gradually and reaching a peak of 10billion Cedis which is 1.7bn US dollars more than the Covid loan that we took and the World Bank and other injections."
The Ministry of Finance and the Bank of Ghana have commenced discussions with the IMF for an IMF-supported programme.
A key prerequisite for a programme is confirmation that Ghana's debt is on a sustainable path.
This will require a comprehensive Debt Sustainability Analysis (DSA), which is currently ongoing.
A statement issued by the Finance Ministry on Monday September 26 said the Government of Ghana is putting together a comprehensive post Covid-19 economic programme which will form the basis for the IMF negotiations.
"Government negotiations with respect to the IMF-supported programme is commencing this week and we are optimistic about making progress in our discussions.
"Government remains committed, and shall continue to actively engage all stakeholders, both public and private, in a clear and transparent manner as we seek to fast-track this process."